Introducing 100 Chestnut
100 Chestnut— the signature life science building of North River Leerink's new Brickbottom District will open its doors in the summer of 2023. This 200,000 SF LEED Platinum-certified laboratory and office building offers a rare opportunity for pioneering minds to shape Somerville's next life science hub.
100 Chestnut will be a best-in-class facility that sets the standard for the reimagined Brickbottom District as a 24/7 destination where scientific innovation meets wellness. This purpose-built project is designed around green spaces for community gathering and events, premium food & beverage vendors and public art installations. Only 7 minutes from Kendall Square, 100 Chestnut is connected via the Green Line T and Community Path to the life science epicenter.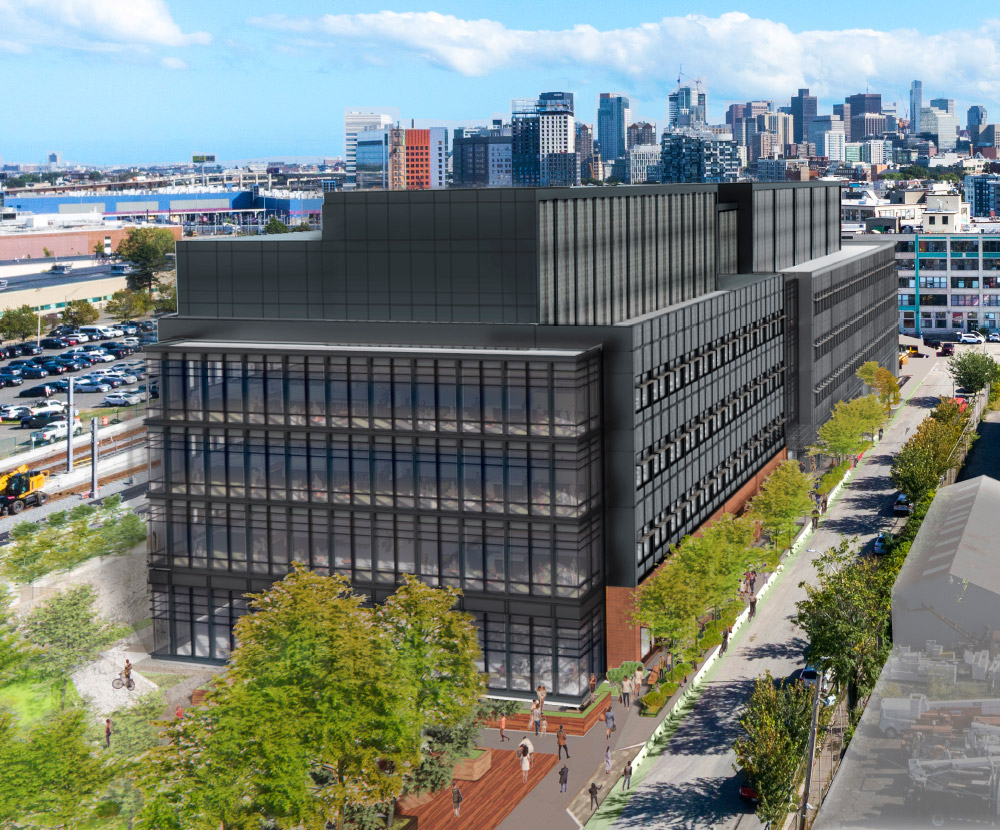 100 Chestnut is being developed by an experienced & dedicated team that's laser focused on delivering a state-of-the-art facility.

Purpose‑built
life science space

200,000 SF
of leasable space

60,000 SF
flexible floorplates

Summer 2023
occupancy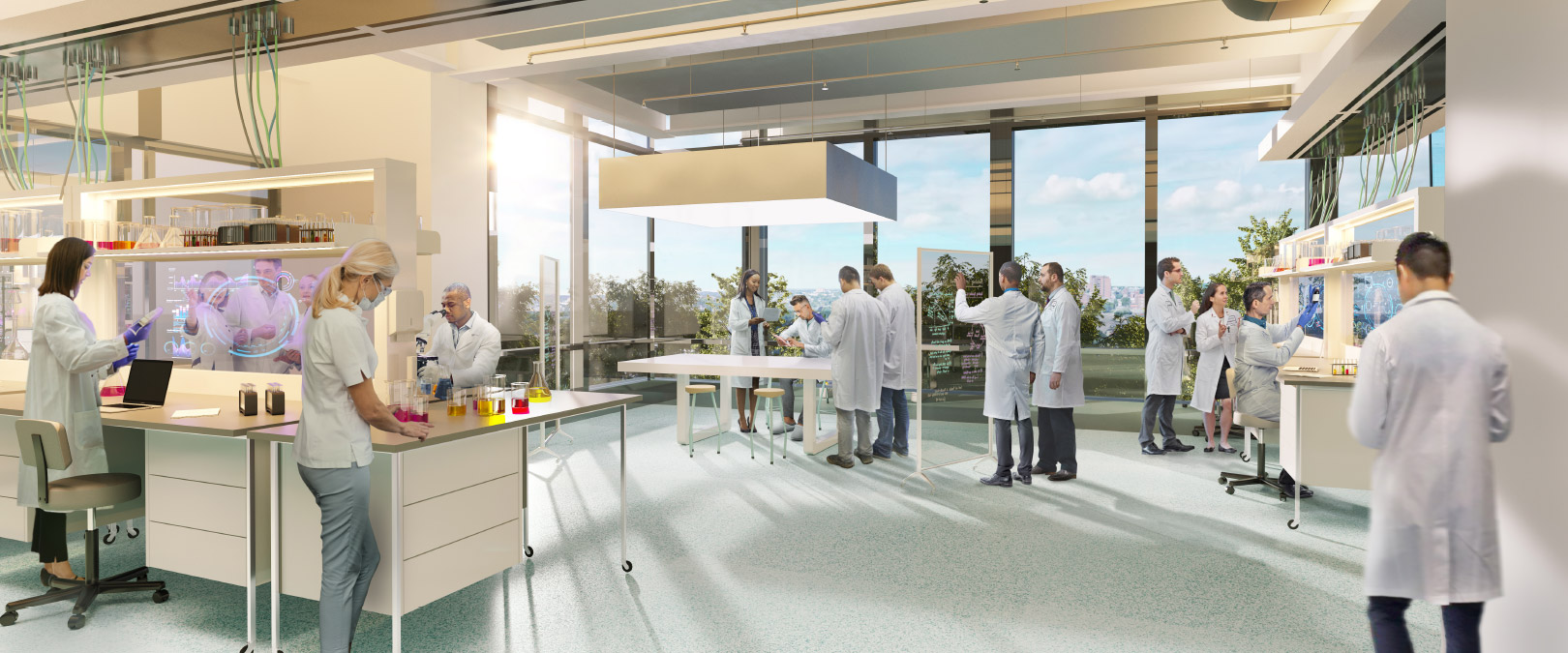 A Connected Location
Just a 1/2 mile north of Kendall Square and adjacent to the new East Somerville Green Line T Station (service anticipated to begin Q3 2022), 100 Chestnut is connected to everywhere. Our strategic location puts tenants at the center of Somerville's life science boom, while a new tree-lined community path (connecting with the Mystic and Charles Rivers paths) provides an easy commute.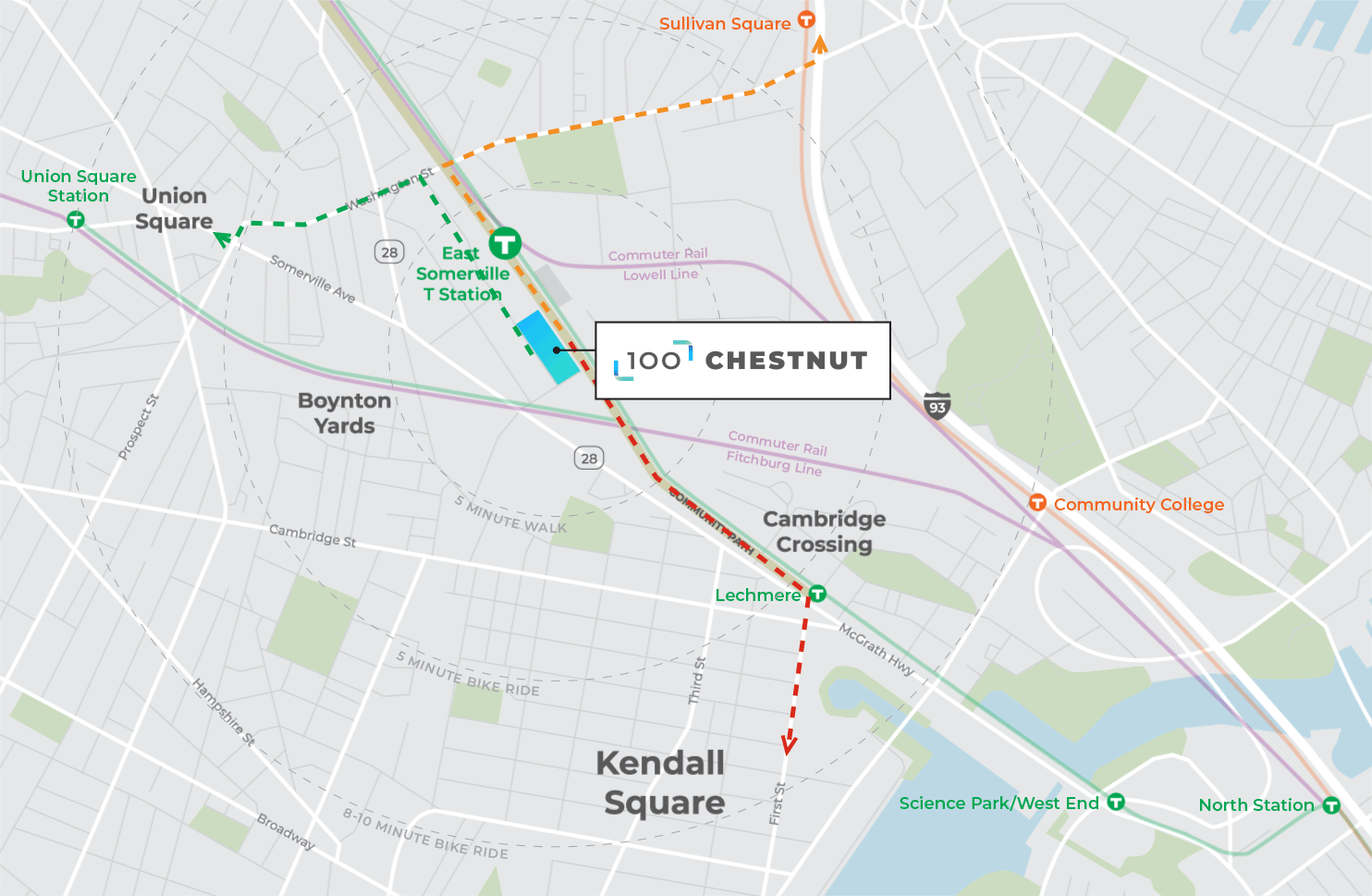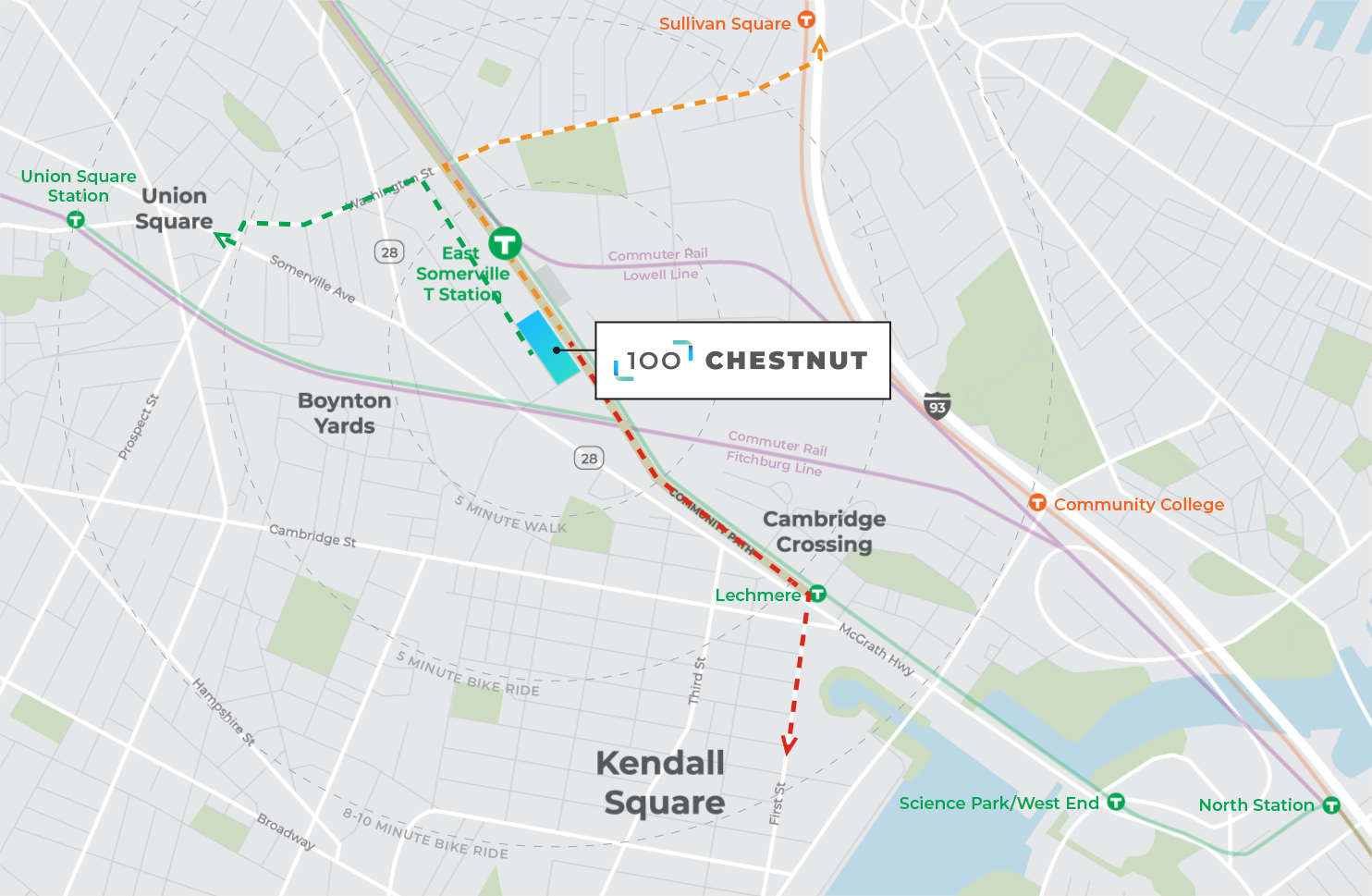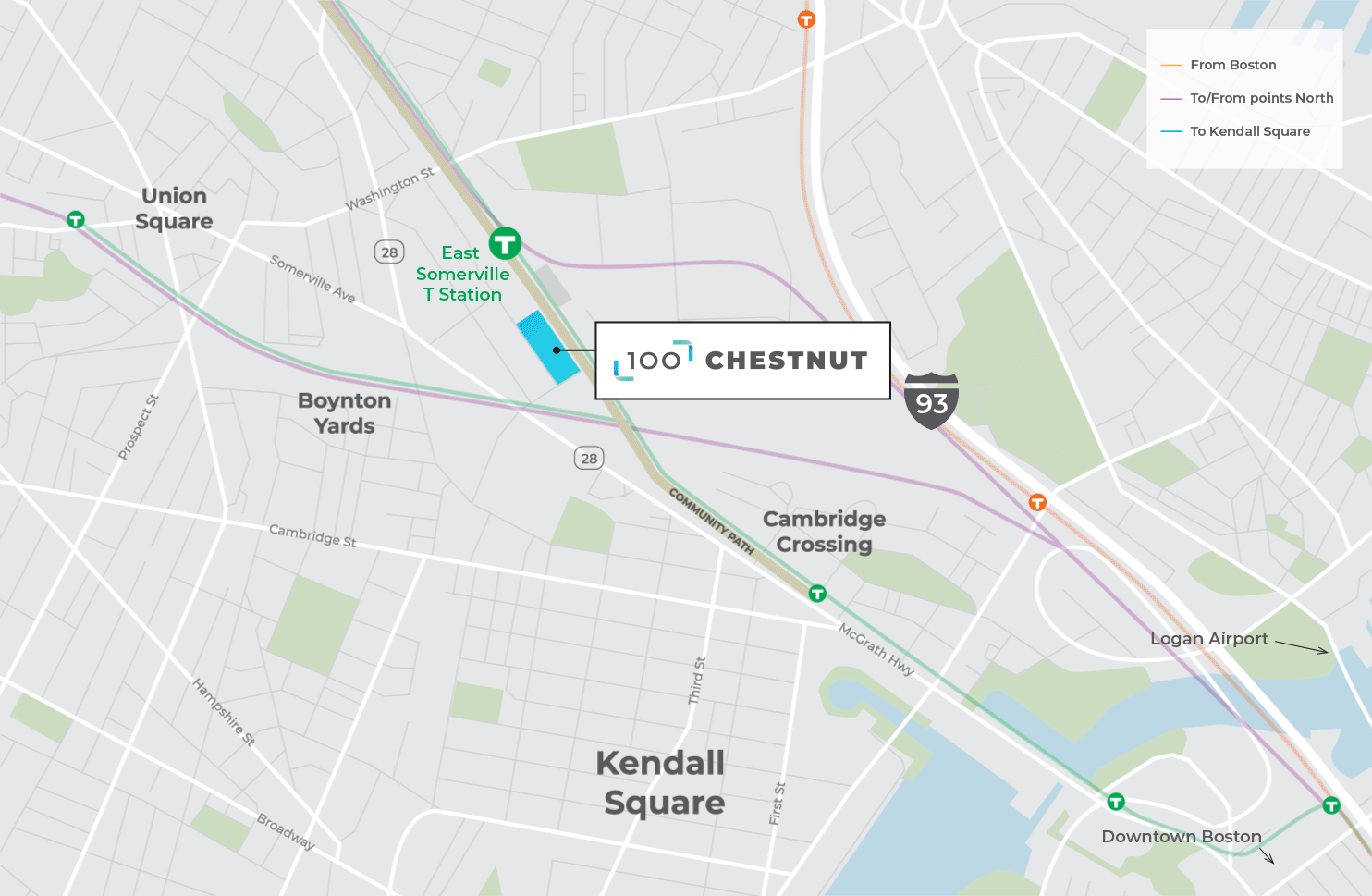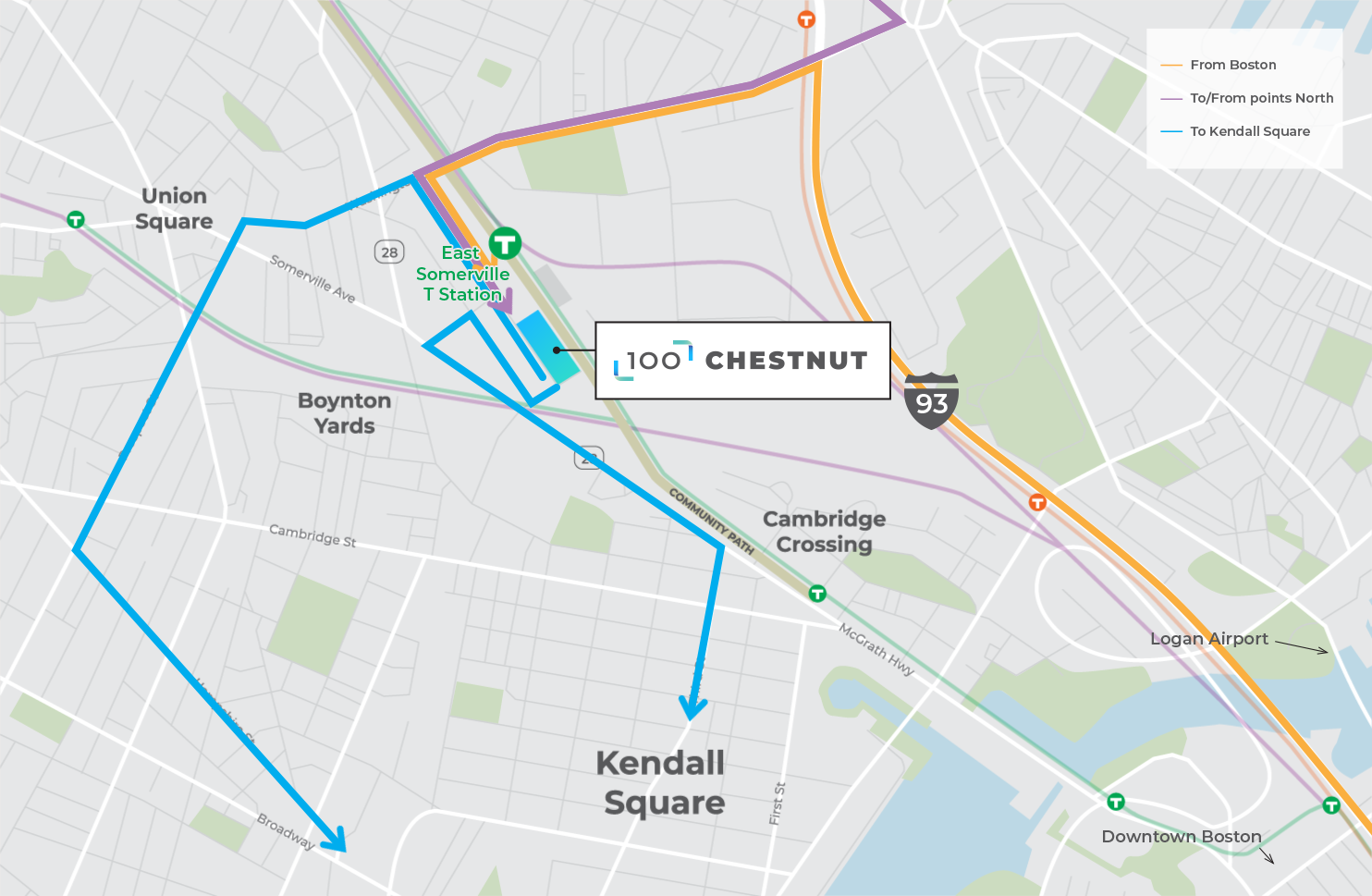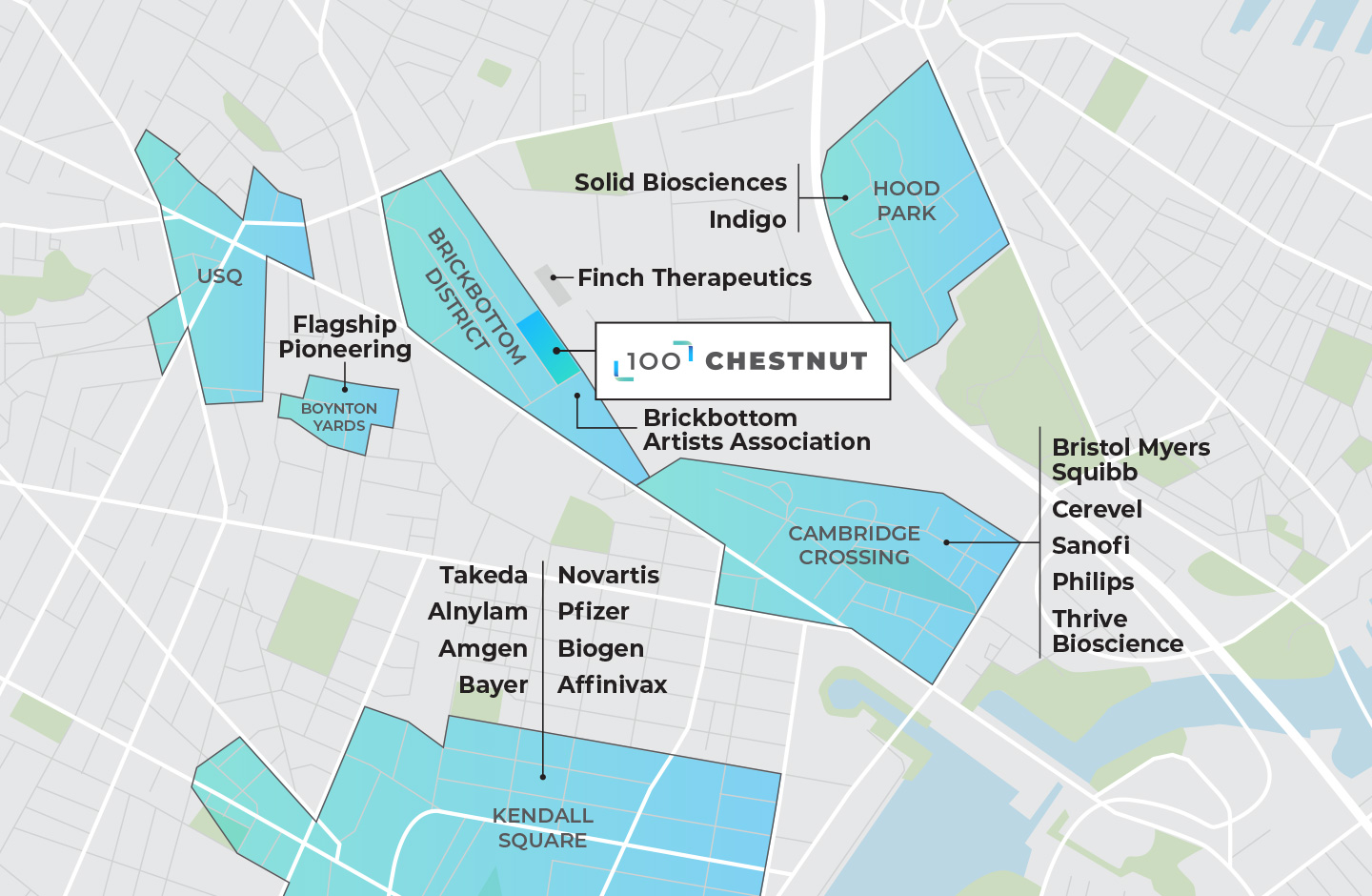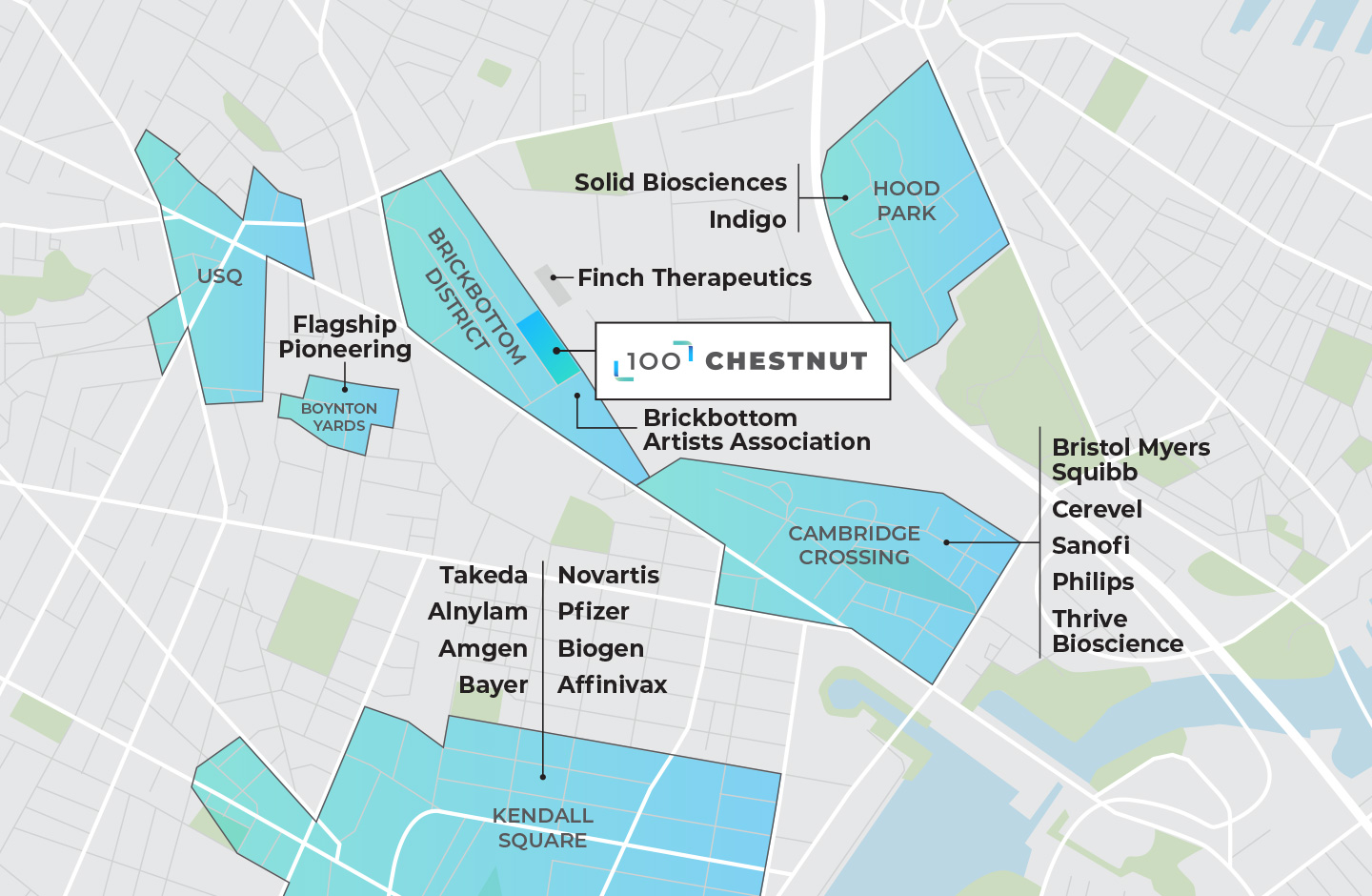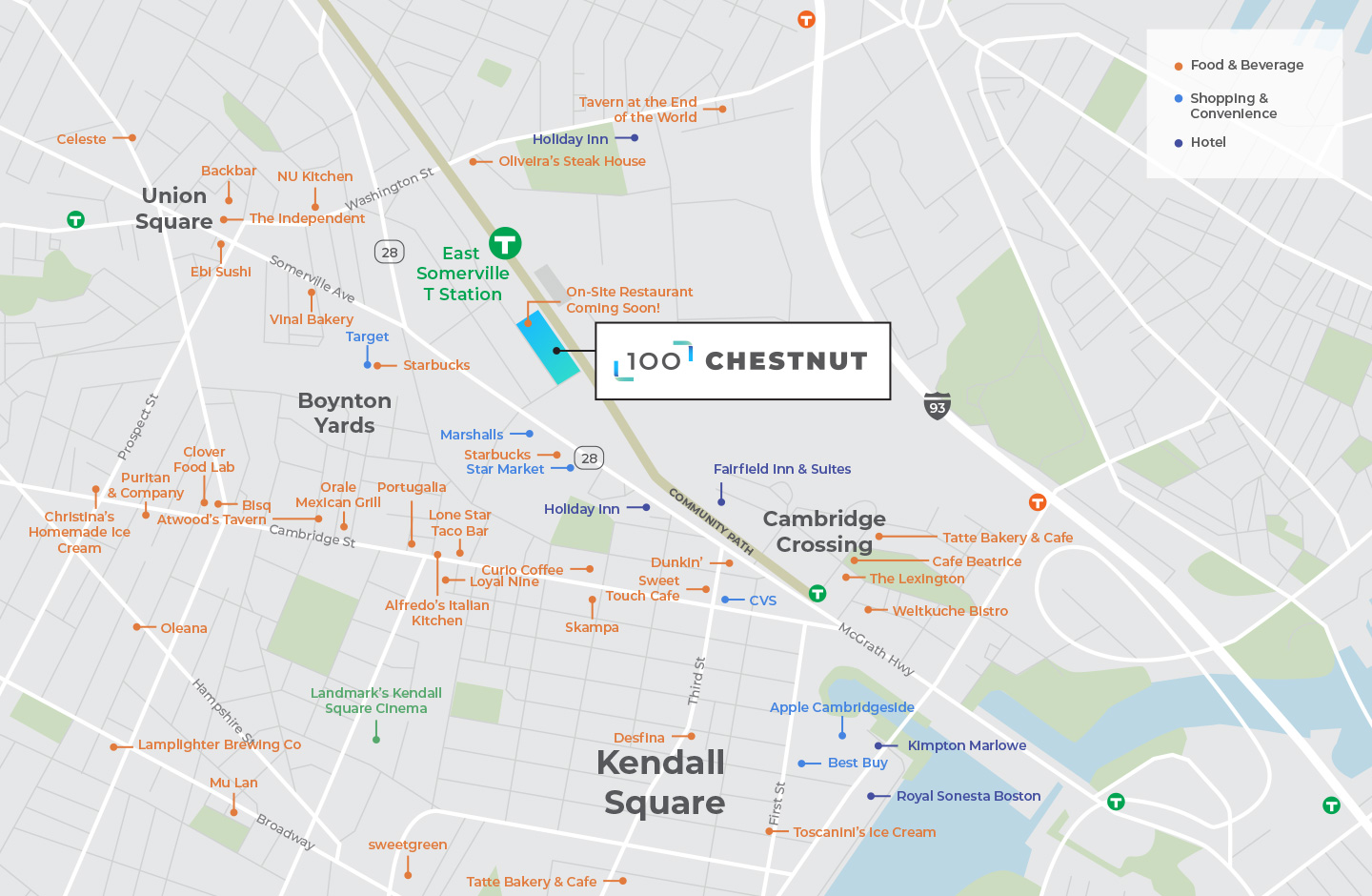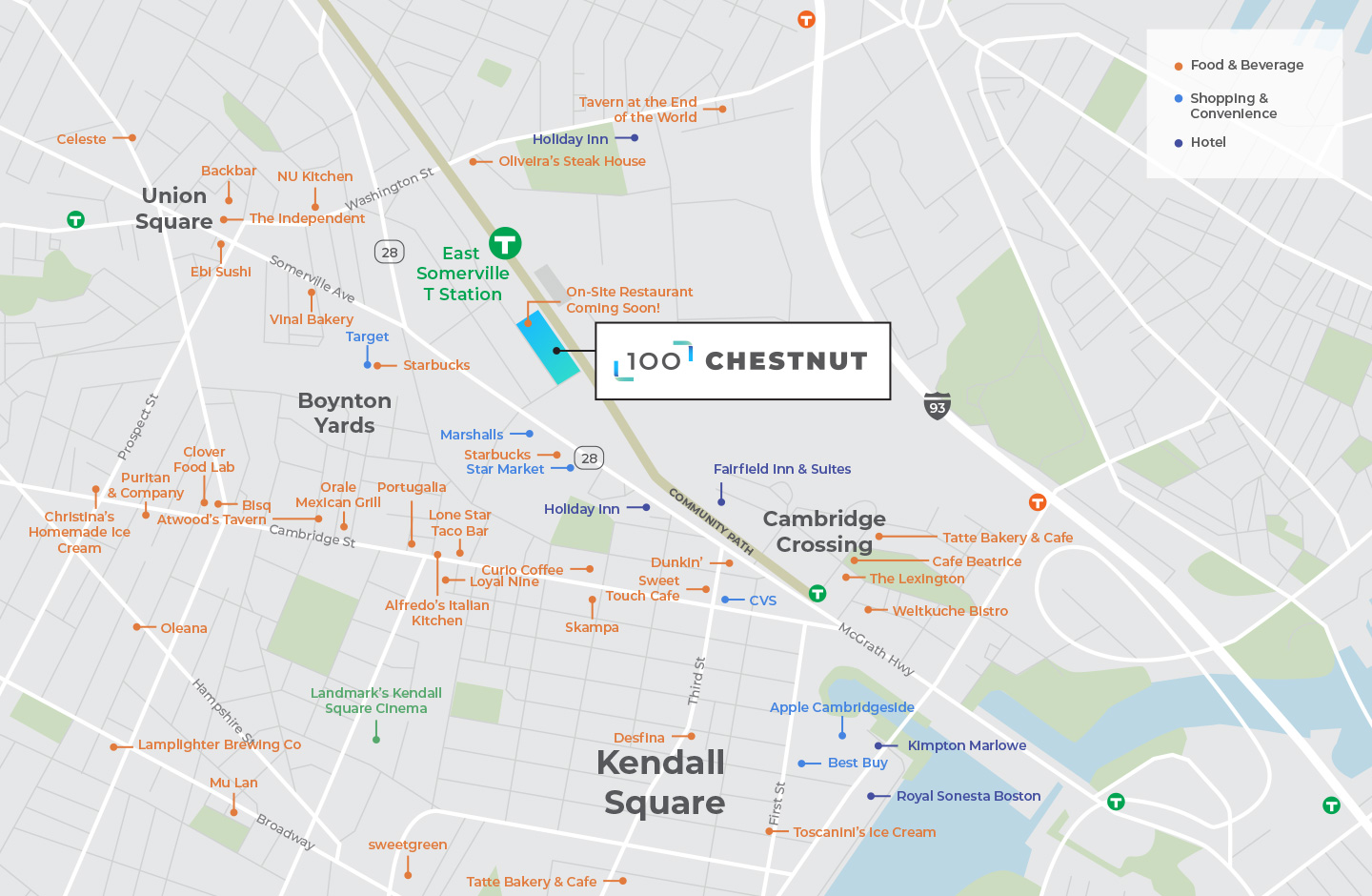 Half mile to
Kendall Square

Adjacent to
East Somerville
T Station

Direct access to
Community Path

Located amidst a
Life Science Hub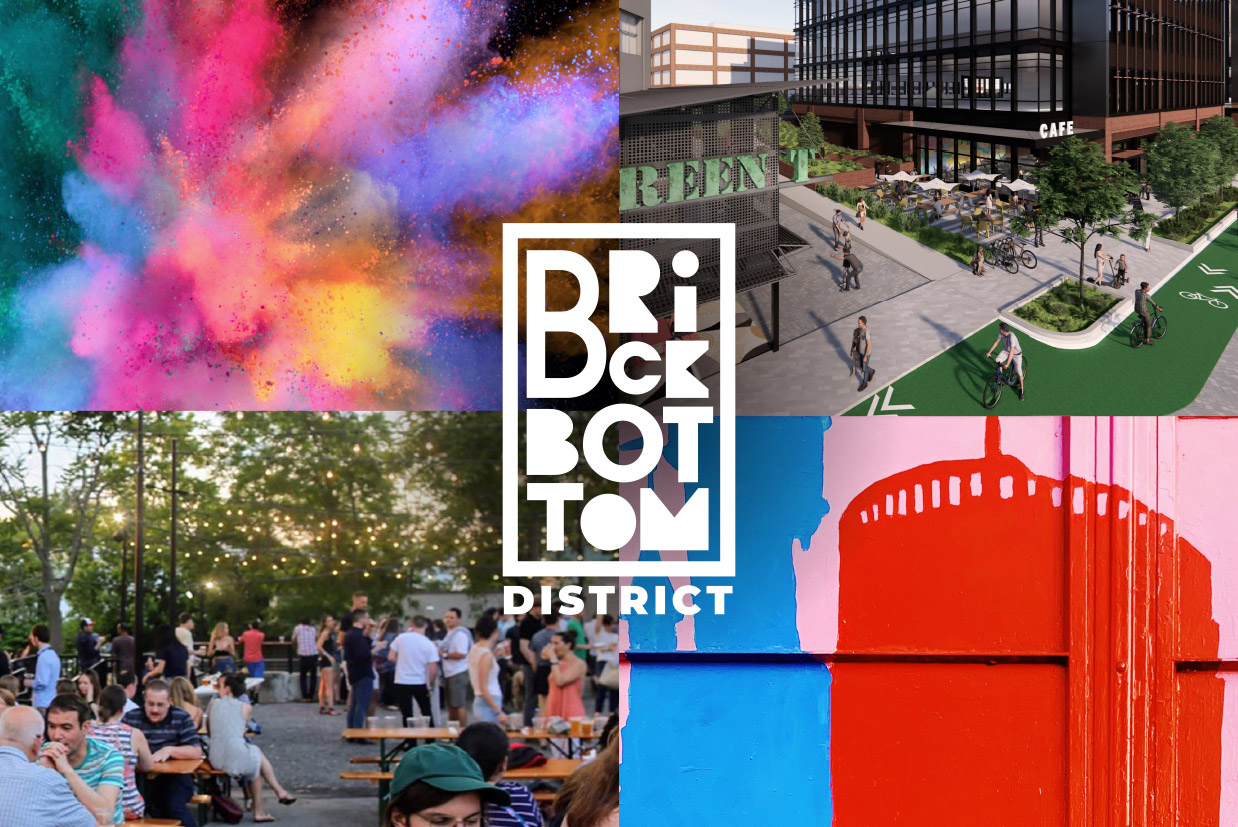 The Future of Art and Science
What would it look like if neighbors, scientists, artists and technologists all came together to create Somerville's next iconic hub? As it happens, we're all about to find out.
The Brickbottom neighborhood's long legacy of creativity will soon be infused with transit, public art, eateries, parks and pathways. In short, the entire area is about to be re-energized.
See Somerville's Vision Plan →
Building on a Legacy of Art
The largest artist community under one roof in the US, the renown Brickbottom Artists Association sits right beside 100 Chestnut. Nearby, Joy Street Studios features a diverse group of artists, designers and small businesses while Somerville's proposed "Art Farm" will be a self-sustaining art and urban agriculture laboratory. We celebrate these pioneers and are creating partnerships with them to extend their reach throughout the neighborhood.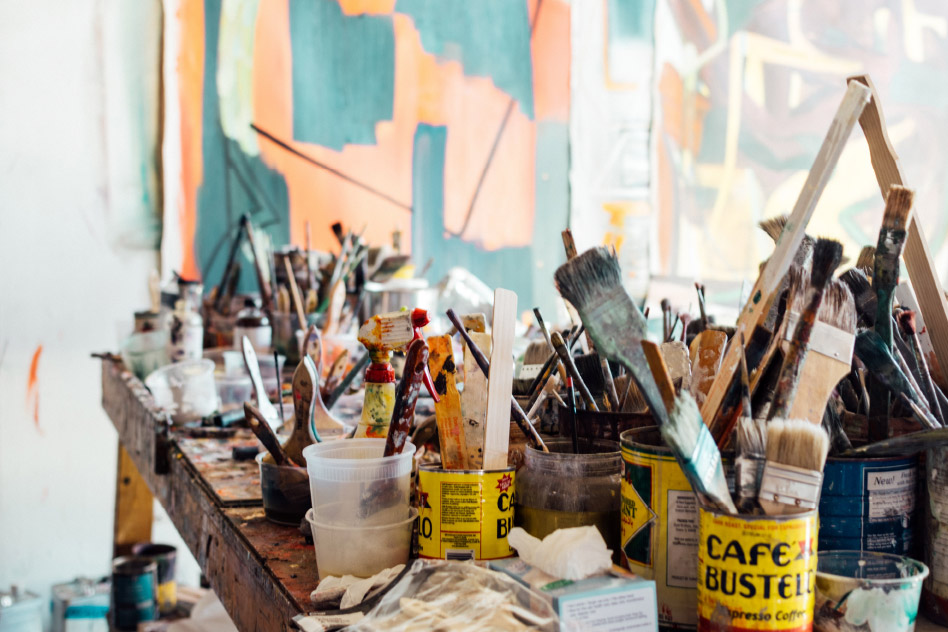 Creating an Engaging Destination
Public Art

Artwork from local creators will enliven the streetscape

Green Space

A new public park & community path will serve as gathering spots

Food & Beverage

Cafes and restaurants will activate the area day and night

Programs & Events

Pop-up art & culinary events will energize the district

Where Beautiful Discoveries are Made
Featuring 60,000 SF flexible floorplates and column-free zones, the building accommodates a variety of specialty uses and allows for lab space to evolve over time. Future phases will add additional lab space to accommodate expansion needs.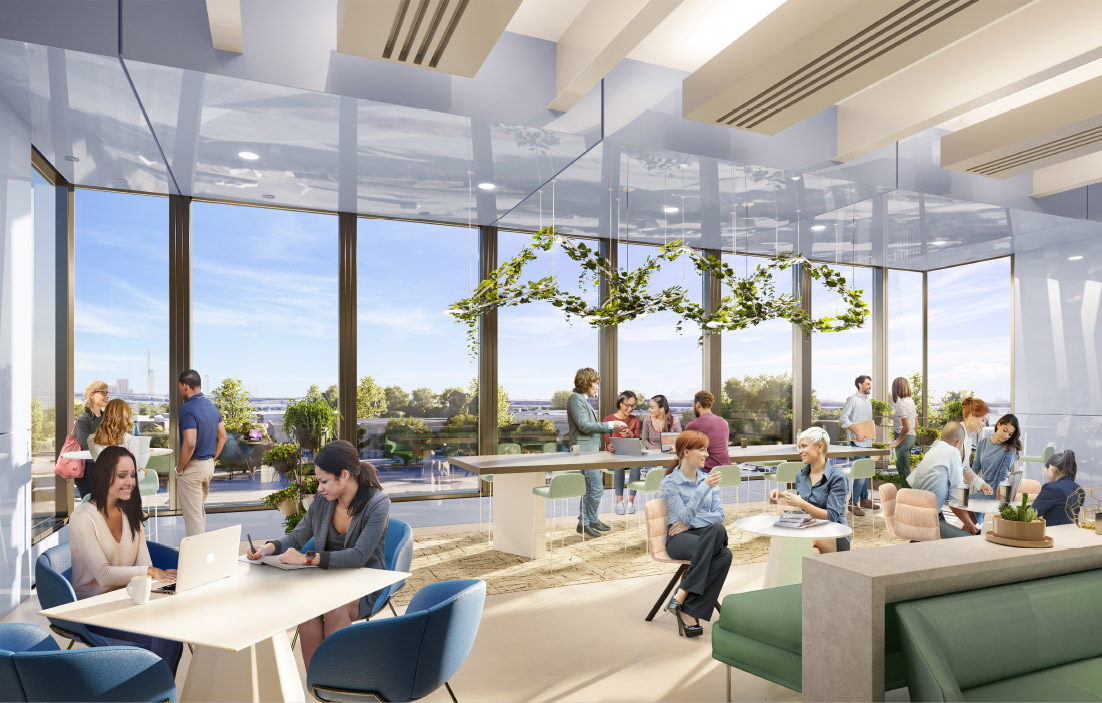 On-site indoor/outdoor restaurant proposed

Indoor bicycle storage & shower

Garage parking
with 1.1 spaces per 1,000 SF

3-minute walk to new East Somerville Green Line T stop
LEED Platinum certified

Activated easy access to outdoor space

4-story open interconnecting stair

Bluebikes
on-site
Swipe above to explore amenities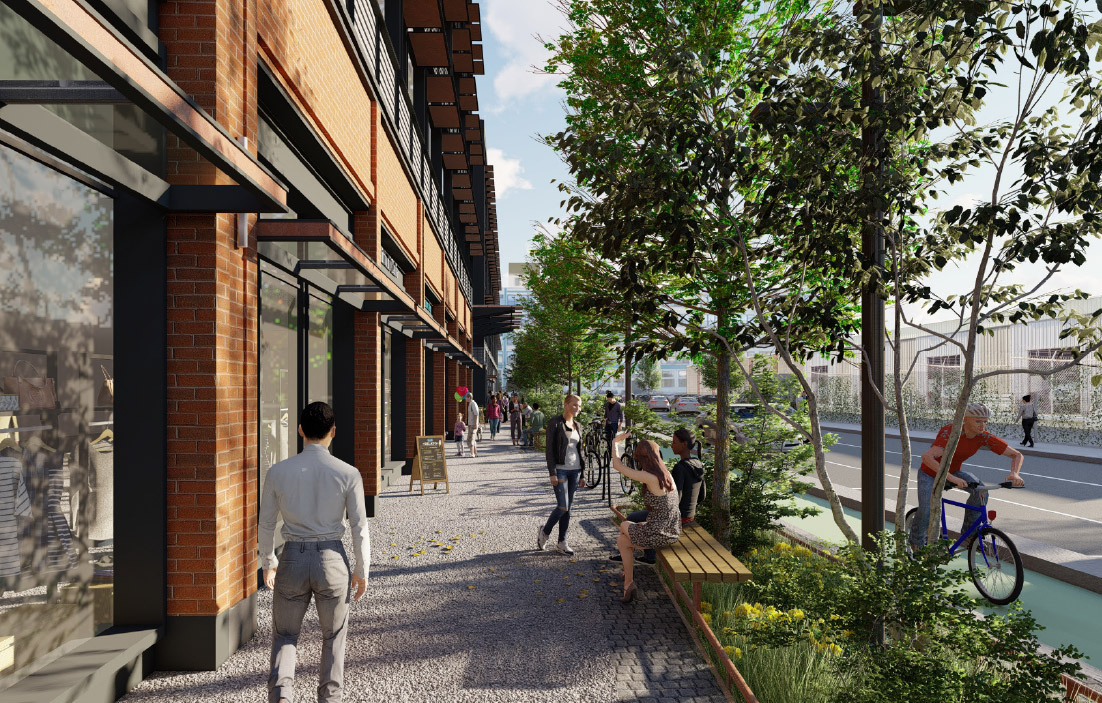 Designed for Wellness
With an interconnected stair that encourages social connections plus dedicated bike and shower rooms, the LEED platinum building brings a unique focus on health and wellness. In addition, our location beside public transit, a community path, widened sidewalks and a new park allows ample opportunity to commune with nature.
Availability
Level 4 60,651 RSF Lab | Available
Level 3 60,909 RSF Lab | Available
Level 2 61,393 RSF Lab | Available

Level 1

15,336 RSF Lab | Available
6,441 RSF Retail | Available